Online Divorce
in Washington
Simple process to get divorce papers online
Affordable pricing plans with no hidden fees
Unlimited changes to forms and free revisions
Divorce papers ready to download in two business days
Step-by-step filing instructions
Award-winning tech support for all customers
Divorce in Washington is quick and easy
Divorce Online in Washington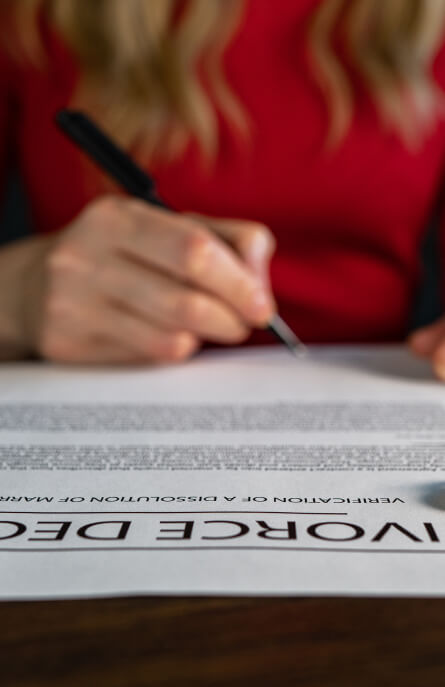 With Divorce Washington Online, you can easily prepare all the court-required documents to start your uncontested divorce without the aid of an attorney.
The main benefits of online divorce include:
No lawyers are necessary.

With online divorce, you are not required to attend multiple unnecessary meetings with lawyers.

Reduced costs.

Online divorce costs thousands of dollars less than a traditional divorce.

Convenience.

With online divorce, you can do everything from home. You do not miss work, coordinate child care, or wait in lines.

Speed.

Usually, it does not take more than two business days to receive the necessary paperwork electronically.
To enjoy these benefits, all you have to do is check whether you qualify for online divorce and fill out a simple marriage-related questionnaire on our website. Then, you will have to follow further instructions provided by the online platform.
How to qualify for an online divorce?
To qualify for an online divorce, spouses should reach a mutual agreement on all issues in their divorce, including custody, visitation, child support, spousal support, division of property, and division of debt. Otherwise, they will need to hire an attorney to represent their interests in court.
Additionally, divorcing couples considering online divorce should follow county requirements regarding the grounds for divorce, the type of divorce, etc. Failure to fulfill these requirements can result in case dismissal.
Compare Your Options for Filing for Divorce in Washington
Divorce With a Lawyer
A traditional way of ending the marriage when spouses disagree on at least one divorce-related term.
Your pocketbook becomes hostage to an expensive legal process
It may cause a certain amount of drama between spouses
Not every single divorce lawyer is competent
It is the most time-consuming way to terminate the marriage
Washington Divorce Online
An easy-to-understand process preferred by couples going through an amicable divorce.
Everything is completed over the internet from the comfort of your home
One-time payment with no hidden costs
Papers can be completed within two business days
No legal background required
Less stressful than a traditional divorce
DIY divorce
Going through the divorce or dissolution process with little or no legal assistance is the cheapest but most complicated way of ending a marriage.
It requires a high level of family law knowledge
Paperwork may be completed with mistakes or inaccuracies
It can be difficult to ensure that you get a fair settlement
Going through a divorce independently can lead to extra expenses
Here's how our process works.
Looks complicated?
Get your hassle-free divorce
Provide your case details
2
File for Divorce Online in Washington Without a Lawyer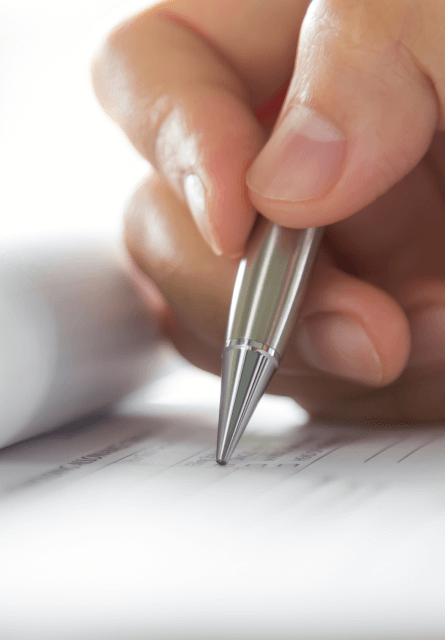 In Washington, filing for divorce without a lawyer is a 100% legit way of terminating the marriage. As long as both parties agree to the divorce terms, they can easily avoid long divorce processes with lawyers and court battles.
However, before applying for a divorce independently, it is important to get acquainted with specific features of the filing procedure in the state.
Filing Process
Each divorce case begins by filing the petition for divorce, covering the information regarding the couple's property, minor children, and the need for spousal support. This document outlines how the petitioner would like the court to handle those issues.
To simplify the divorce process to the fullest, the couple may file the divorce petition jointly. By co-signing this form and the Agreement to Join Petition (FL All Family 119), both spouses agree that the judge may approve all of the requests in the petition. In this case, partners are allowed to skip the Summons and other forms related to the service of the petition. At the same time, considering that some counties have their own rules and requirements, partners should check with the court clerk's office for more information.
Also, to get divorce online in Washington, you can use our services. Thanks to Divorce Washington Online you can get step-by-step assistance in preparing divorce paperwork over the internet and submit it to the court in just two business days after filling out a simple questionnaire on our website.
Do-It-Yourself Divorce in Washington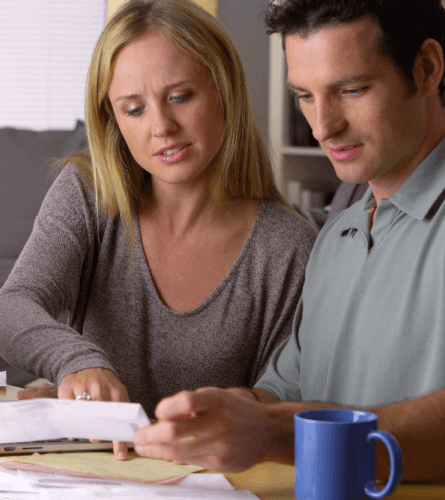 In Washington, a do-it-yourself (DIY) divorce has become one of the most popular ways to end a marriage free of stress. To prepare appropriate documentation for a DIY divorce, people often use online divorce services. But, if you believe you can carry out this task on your own, here's a valuable list of steps:
1. Fill out the divorce papers required for your case.
These documents play an essential role as they provide in-depth information regarding:
Where you live
When you got married
How long you have been married
Your current living situation
Any minor children
Custody and guardianship
Child support
Spousal support
2. File completed forms with the court.
Once the divorce paperwork is prepared, the petitioner should bring it to the clerk's office of the Superior Court in the county where they want their divorce case to proceed. When filing legal forms with the court, spouses should pay a mandatory filing fee of around $300 in the state.
3. Serve the divorce papers to the defendant.
After filing divorce documents, the petitioner should inform the other spouse that legal action has been taken against them by serving divorce papers. Currently, it can be done in one of the following ways:
By having someone 18 or older (not anyone connected to the case) deliver them to the recipient
By hiring someone (generally a professional process server or sheriff) to hand-deliver the paperwork to the other party
By certified mail
By publishing a notice in a local newspaper (if the respondent cannot be located)
4. Go through a mandatory waiting period.
Washington law requires that all divorcing couples follow a 90-day waiting period before their divorce case can be finalized.
5. Finalize the divorce.
Uncontested divorce cases can be finalized without a court hearing, whereas people going through a contested route will need to go to trial to finalize their divorce. Once everything is approved, the judge will sign a divorce decree that marks the legal end of the marriage.
All Required Washington State Forms.
Washington-Specific Court Filing Instructions.
Unlimited Revisions for as long as your account is active.
Getting a Divorce With Children in Washington
If the couple has minor children, they will have to address all children-related issues before terminating their marriage. The main terms to discuss include but are not limited to:
The type of custody (legal/physical and sole/joint), i.e., residential schedule and decision-making authority for the children
The amount of child support, who pays it, and for how long
The visitation schedule
If spouses cannot agree on these terms and prepare a parenting plan that satisfies both parties, the judge will carry out this task according to the child's best interests. In Washington, the child's best interests are based on a variety of factors, such as:
The child's wishes
The child's preference for school, location, and community
The child's personal relationships with other family members (siblings, relatives, and their parents' new partners)
Each parent's physical health and mental stability
Each parent's financial status
The history of parental drug abuse, alcohol abuse, or addiction
The history of past physical, sexual, or emotional abuse
A parent's gender can't be the basis for awarding or denying certain types of custody. In other words, both parents have equal rights over a child in Washington.
When it comes to child support, it mainly depends on the proposed custody arrangement and each parent's income. To estimate your share of support, you can use the Washington child support calculator.
Residency Requirements in WA
Unlike many other states, Washington does not require people to live in the state for a certain amount of time before they may file for divorce. The only requirement is that one of the spouses be a state resident (or be a member of the armed forces stationed in the state) on the filing date.
Simply put, it is enough to provide proof that at least one of the spouses is a legal resident of Washington to be able to file for divorce there.
How Long Does It Take to Get a Divorce in Washington?
Numerous factors impact how long a divorce case will last. Usually, these factors include the type of divorce, the time needed to find an agreement with the other party and complete divorce papers, the type of services used, and so on.
Considering that Washington has a 90-day waiting period, a typical uncontested divorce lasts around 3-4 months. In contrast, contested cases can last over a year or longer, depending on the complexity of the marital assets and child-related issues.
Frequently Asked Questions
How to file for an uncontested divorce in Washington?
To file for an uncontested divorce, residents of Washington should follow several significant steps, such as:
Filling out divorce paperwork
Filing completed papers with the court (there is no opportunity to file for a divorce online in Washington)
Serving papers on the respondent
Going through a mandatory waiting period
Finalizing a divorce
How much does a divorce cost in Washington?
Divorce costs in Washington can reach $6,000. In turn, people considering an uncontested divorce online in Washington can use online divorce services (approximately $200-400 for the whole set of divorce forms). Thus, the final cost of a divorce is unique in each case.
How to get a free divorce in Washington?
To get a free divorce in Washington, you should use a DIY method and ask the court to waive filing fees by completing and submitting an Application to Proceed Without Pre-Payment of Costs.
How to get divorce papers in Washington?
You can get divorce papers filled out by a divorce law attorney, an online divorce platform, or download and fill them out on your own.
Where do I go to file for an uncontested divorce in Washington?
In Washington, you can file for an uncontested divorce at the clerk's office of the Superior Court in the county where either you or your spouse resides.
What are the grounds for divorce in Washington?
Washington is a no-fault state, which means that an "irretrievable breakdown of the marriage" is the only legal ground for getting divorced.
How is property divided in a Washington Divorce?
Usually, Washington divides property by:
a) awarding each party their own separate property
b) dividing the net value of the parties' community property 50/50.
Customer Testimonials
This was so easy with step by step instructions. I'm very happy with this company.
This service made the process very easy. Would highly recommend.
I was doing online divorce process and it was made easy so clients will understand and process divorce here, thank you for making my life easier filing divorce here.
I am happy this service exists. I had a pain of a time filing the first time in another state and spent way more money. This has saved me and hopefully finally, finalizes my long needed divorce to move forward in life.
I always wondered what to do to get a divorce considering I have not had contact with the other person's for over 2 Decades, so when I read this article on WA divorce I immediately took the opportunity.
With your help everything was easier than I thought
Very very helpful and no stress thank you for your help
The service was easy to use and straight to the point will recommend to others
I've never filed for divorce before but this seems a lot easier than what I've heard.